IND's versatile precision machining capabilities include some of the most advanced machining technologies on the market today. We have the expertise and equipment to produce and modify precise components and assemblies with any type of material used in manufacturing operations. From CAD design to material choice to finished product to quality control and fabrication, exacting specifications are a fundamental part of how IND operates.
As the demand grows for more and more stringent component and assembly specifications, the techniques for machining and fabrication must adapt accordingly. When you partner with IND, you will get machining and fabrication proficiency that has been honed over many years of industry experience.  We have developed numerous component designs that enhance performance, increased lifetimes, and lower costs. Using the latest in engineering technologies, IND works to meet your exact specifications.
At IND, our commitment to maintaining the highest quality not only pertains to our processes and products but also to every service we provide. We know how important fast turn-around times are for high volume and high-value manufacturers to minimize equipment downtime.  Our team of professionals will work with you efficiently and effectively to understand your requirements and deliver them as quickly as possible.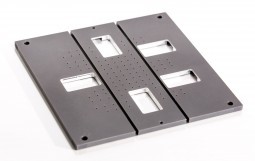 Accurate computer aided design is critical in precision manufacturing systems to ensure that every component functions in exactly the right way. We utilize digitized 3-D modeling to make sure everything fits together and works precisely.  Our design specialists can work with your computer models and modify them as required or they can create digital designs from scratch to develop the best and most exact documentation possible.